By Johnny Punish, locally known as J.P.
So yesterday, I was out with some learned local friends scouting land deals and was very surprised how much things have changed in the Valle de Guadalupe.
First, I noticed how much new construction is still ongoing; from residential houses to big winery projects. This has been going on since 2012, almost non-stop. Not even the Pandemic slowed the Valle down. It's been a long 13 years of growth.
Now, to backtrack to 2007, the Valle was a sleepy area with almost a ghost town feel with about 20 classic legacy wineries, a few old established restaurants, and an old broken road into the valley from Ensenada with no guard rails which said to the unsuspecting visitor "Hey, you're entering no-mans land to an area ignored and quite forgotten since it's early late 19th century settlers walked it's dirt roads and horse trails".
But now, it's a magical place with lots of wineries, so many I have lost count; maybe 150, 200? I don't know. And now, we have lots of restaurants from the smallest food cart to the highest end of cuisine and all in between.
What changed the Valle forever was, in my opinion, the media hit TELENOVELA LA BONITA (Televisa, 2010).
Previous to La Bonita, I would travel within Mexico and people would ask "So where do you live?" and I would say "Valle De Guadalupe" and everyone would say "Where?". They had no clue. When I told them 90% of all Mexican wine is produced in our valley, they said "Really?".  They did not even know.
However, once this La Bonita came out in the mass media, the answer would "OMG, Valle de Guadalupe? Yes, I can't wait to go visit".
And then, all of sudden the money from Mexico City and Cancun started flowing in. Lands were being bought up by big players and projects went up. Big money from Tijuana came in the game was on and it's been on since around 2012.
By the way, La Bonita was actually filmed and centered around La Lomita, one of our great local wineries.  Here's a snippet from the show on YouTube.
OK, so where are we today?
Well back in 2007, you can buy land here in the center of the Valle for $ 2 per meter squared. That would be with no access to services If you wanted something a bit more organized in a Colonia, it would be about $ 7m2 with access to water and electricity.
As late as 2017, the land prices would have been about $ 25m2 in the center and about $ 35m2 in the more developed areas.
And now, in 2023, you can easily get a 1500m2 piece of land in a newly subdivided area of the valle center in San Marcos or Terra Santa for about $ 77m2.
Maybe in the more exclusive areas, you will pay about $ 90m2.
To give a real-world example, I know a couple who purchased 1800m2 of land in the center in 2017, next to electricity with a water well for $ 23,000 USD, about $ 12.77 per meter. Now, that is sales are going for about $ 75 per meter or about $ 135,000.
OK, so what's the ROI on that investment?
Well, that's about a 590% return on your money over 6 years or about a 97% return on your investment per year. Wow, the banks ain't paying that much are they?
But will it continue forward?
Well, nobody really can say for sure. But what can be said is that Mexico is now the # 1 trading partner with the USA and it's becoming an even bigger destination for USA retirees, well, for those seeking a higher-end Mexican experience in a NAPA Valley type setting witha Mexican twist, this is the place.
And, once you drive around for a few days, you will notice all the big homes going up and bigger projects so…..yeah, I actually think we will talk about the price per meter pushing $ 300 within about 5 to 7 years.
So there you have it….the real estate report from deep inside the Valle De Guadalupe from a resident whose been here since 2007.
I hope this helps.
By the way, I am NOT a real estate agent or salesperson.  My wife, Betty runs our Hacienda Eco-Domes, a BnB in the Valle, and a weekly Cooking School where she teaches guests the art of Mexican Cooking.  So yeah, I just built the place and she runs it.  So mostly, I just play music and enjoy the days of Wine and Roses!
---
RESOURCES
If you want a great resource for buying land or bigger projects, contact; Mario Montanio.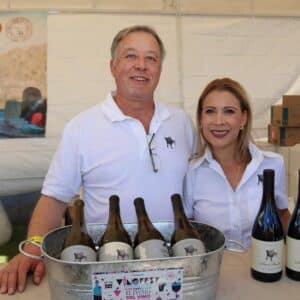 Mario is the owner of Amor Bonita Winery and he helps foreign investors buy in our Valley safely and securely.  He speaks perfect English and has lived his whole 58 years in the area.  He knows how to be successful on our Valle.  So send him a WHATS-APP  or hit him up on Facebook
CELL:  +52(646) 189-8447.   If you are in USA, just dial, 011-52-646-189-8447